GA Profiles
revamping general assembly's ReCRUITment platform

Duration: 3 weeks | Aug. 2016
Responsibility: UX| Prototyping | Project Management
Teammate: Liz Speidel
 

GA Profiles is an online recruitment platform for General Assembly's global alumni network. The goal of the project was to redesign GA Profiles to be an efficient and desirable tool for employers who want to hire GA graduates.
 
What do hiring managers look for in candidates?

We studied the hiring practices of employers and recruiters to design a hiring experience that streamlined the process within the context of General Assembly's network of graduates.
Our main challenge was to present an overview of candidates that was comprehensible and personable, without being overwhelming.
Currently, GA Profiles could be described as a minimum viable product. Its development had focused primarily on the use by the graduates, so it severely lacked features for the employer-facing side.
The scope of our brief focused round how employers would interact with GA Profiles – more specifically, how hiring managers and recruiters would find, contact, and track candidates.
From our interview with the stakeholders, we synthesized General Assembly's goals for Profiles into
Our goal was to create an optimal recruiting experience for employers to find and connect with candidates who match their hiring needs.
User Interviews and testings of existing product
 
We began our research by talking to 8 hiring managers and recruiters about their behaviors, preferences, and needs during the hiring process.
We learned about their preferred platforms for hiring (of which we studied in our competitive analysis), what types of information qualified a candidate, and their procedures after identifying qualified candidates.
We then validated what our users were telling us in our interviews by asking them to walkthrough their hiring process on the existing GA Profiles. From these observations, we quickly identified the pain points and opportunities for improvement.

TakeawayS from user interviews
Hiring managers and recruiters expressed their desires for understanding the candidate's background, personality and goals, while not spending too much time on each candidate's profile.
Our main challenge became providing the candidate's most important information in the appropriate amount that optimized the hiring manager's comprehension of the candidate.
In terms of candidate qualifications, we noticed an important trend of two types of priorities among hiring managers. Within a spectrum between culture fit versus work quality, the users stated the importance of one over the other in how they qualified the candidate.
Takeaways from Usability Testings of Existing
 
SEARCH LIST PAGE
Most of the users we tested wished for a search feature to discover candidates using keywords by specifying certain skills, experience and even interests.
Users also expressed the difficulty of distinguishing candidates within the list. Hiring managers wanted an easy way of comparing candidates.
Additionally, users wanted more filtering options, such as experience levels, education and specific industry.
CANDIDATE PROFILES PAGE
All of the users we tested were overwhelmed by the amount of text, with some of them not bothering to read at all for that reason.
Instead, these hiring managers indicated the need for:
concise summaries
prominent work samples / portfolio
noticeable links to personal websites & social media
insights into candidate's personality for culture fit
the candidate's desired job type and role
the candidate's story (background and future goals)
 
Some things we noted to reconsider from the tests were:
how the candidate's skills were represented
the often overlooked Q& A section on the side bar
the ignored personal quote on the top banner
From the insights gained user interviews and initial usability testings, we identified two personas of users.
Competitive AnalysiS
Three categories of competitors were studied – Major Recruiting Platforms, Minor Recruiting Platforms and Bootcamps – to evaluate features that we could adapt for GA Profiles.
Comparing the features of the existing GA Profiles to those of the competitors (identified during stakeholder & user interviews), it's obvious that Profiles lacks a lot of the features that it should have.
Feature Analysis of competitors
We prioritized the list of potential features identified in the competitive analysis and user interviews.
These features were arranged according to the level of impact and degrees of expectedness to organize them into groups of Must, Should, Could and Won't (MoSCoW method).
Then these prioritized features were arranged by the respective pages they would fall under to aid in the design phase.
Insights from Usability Testings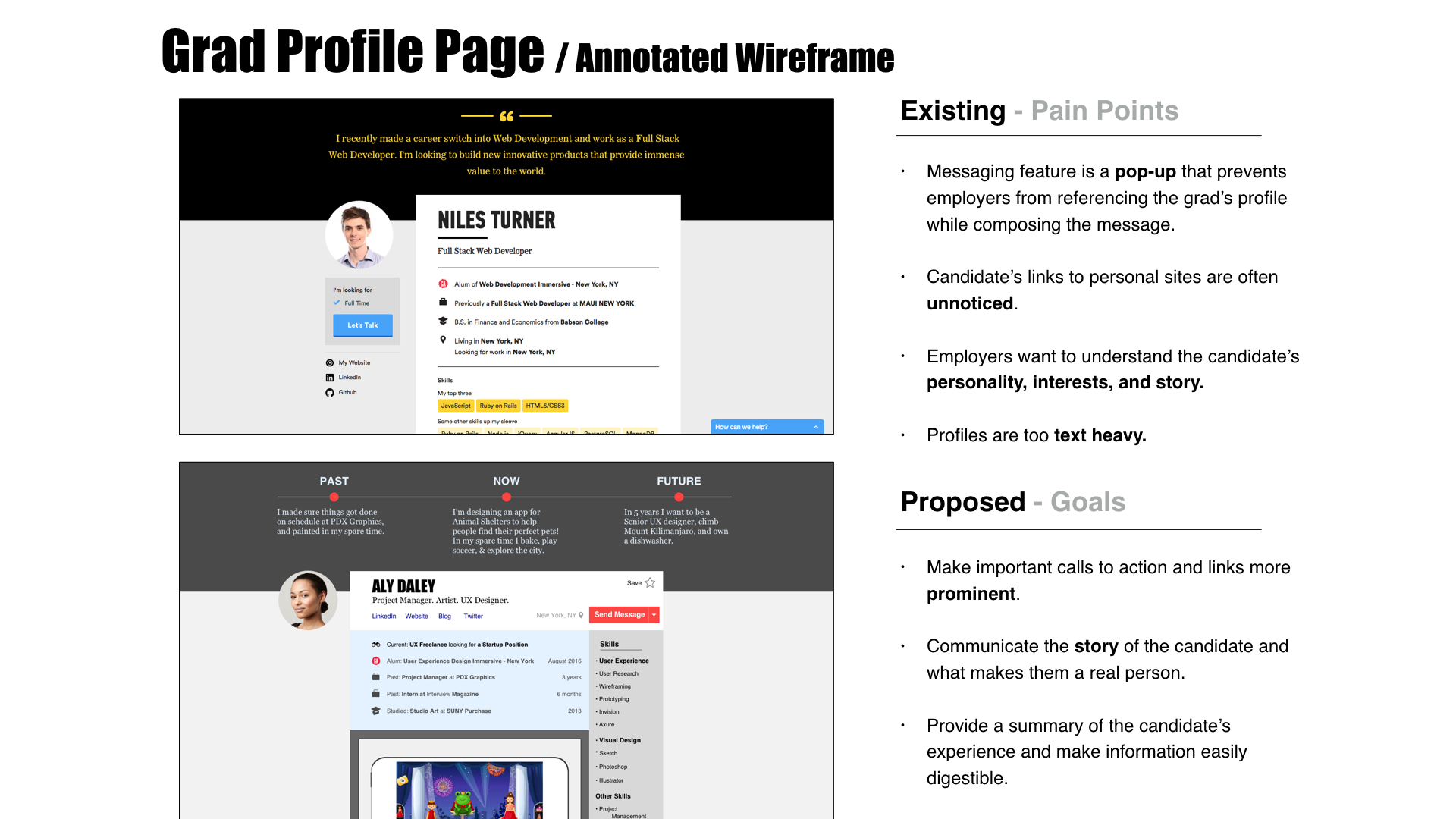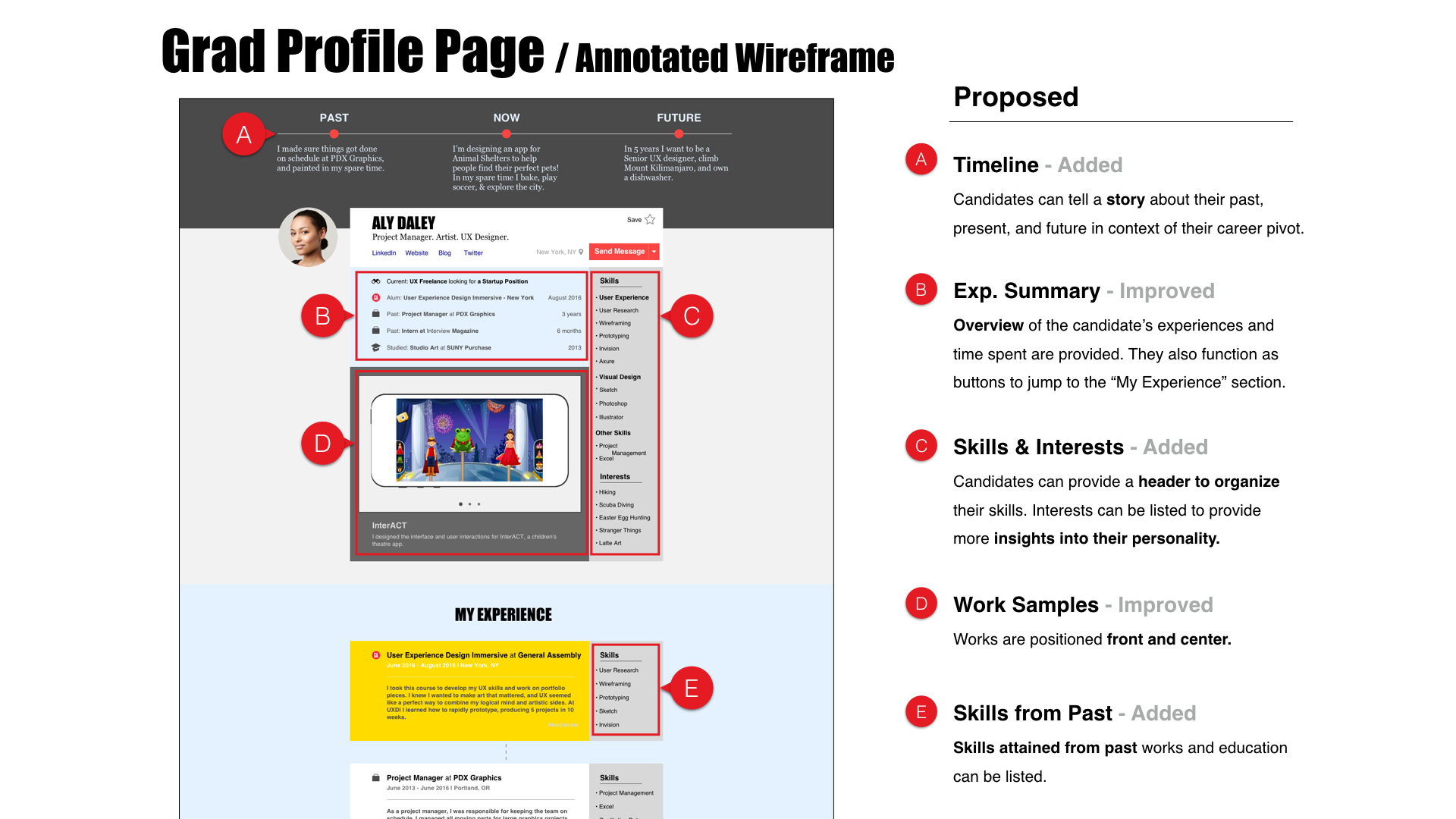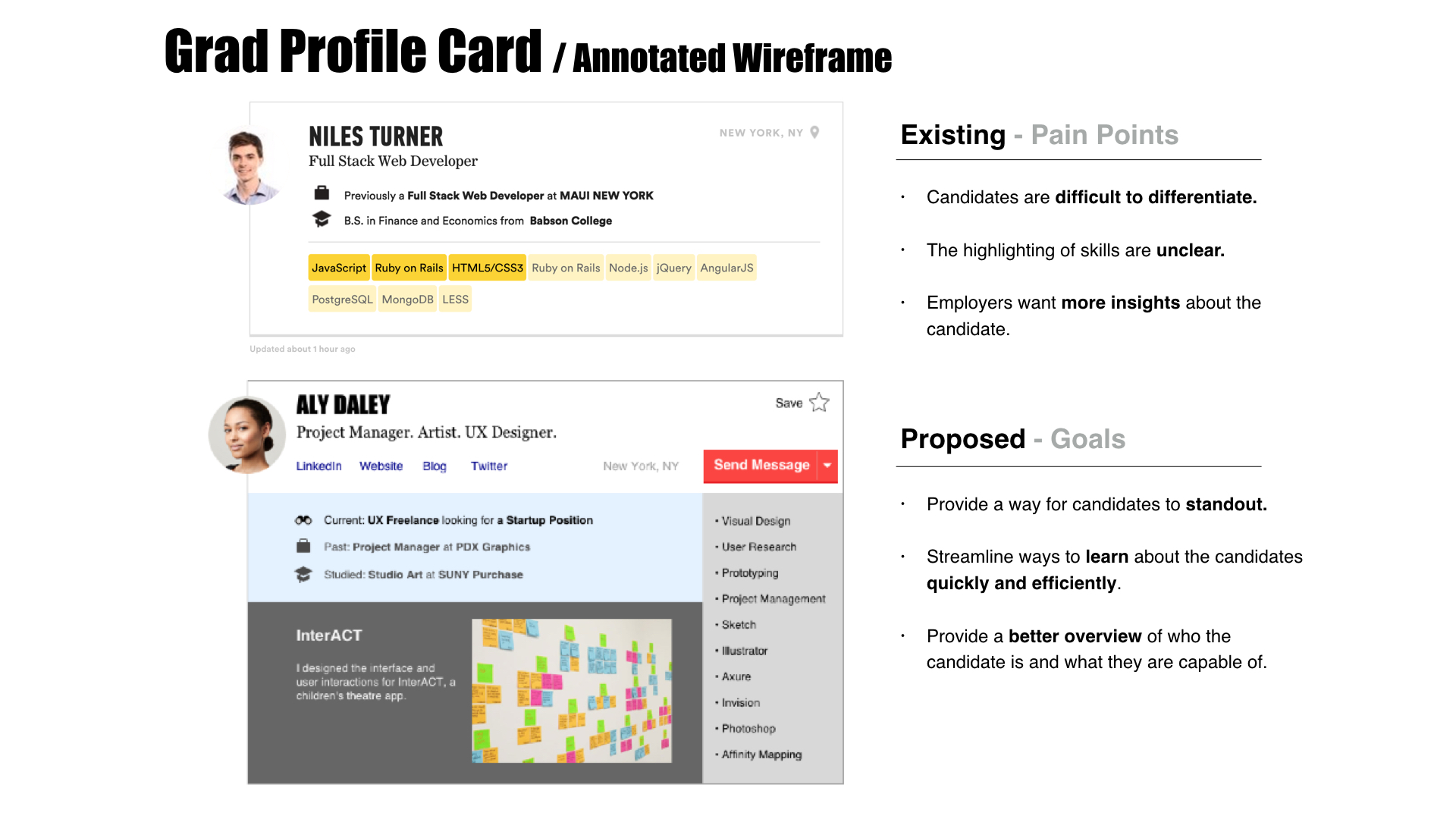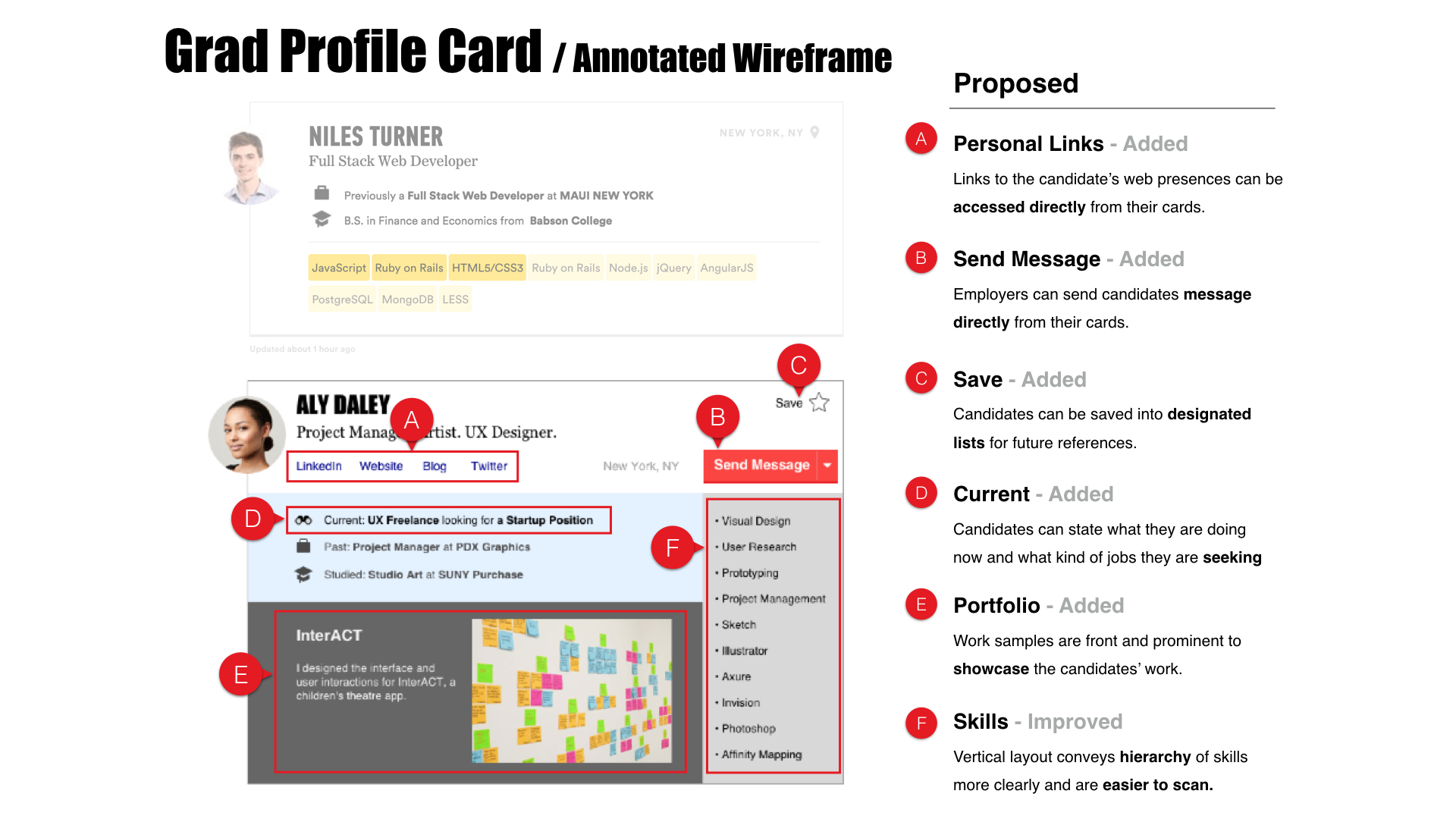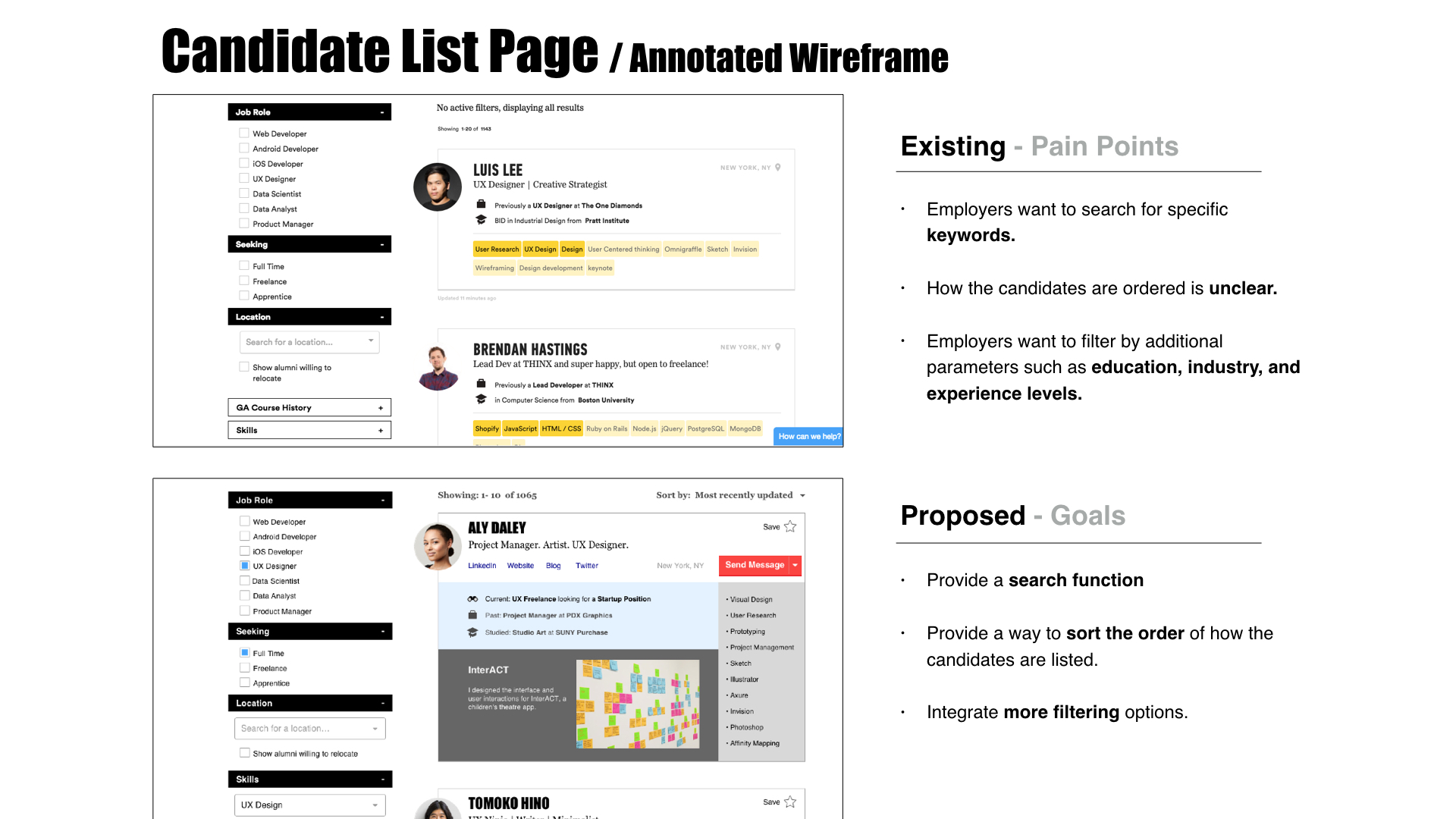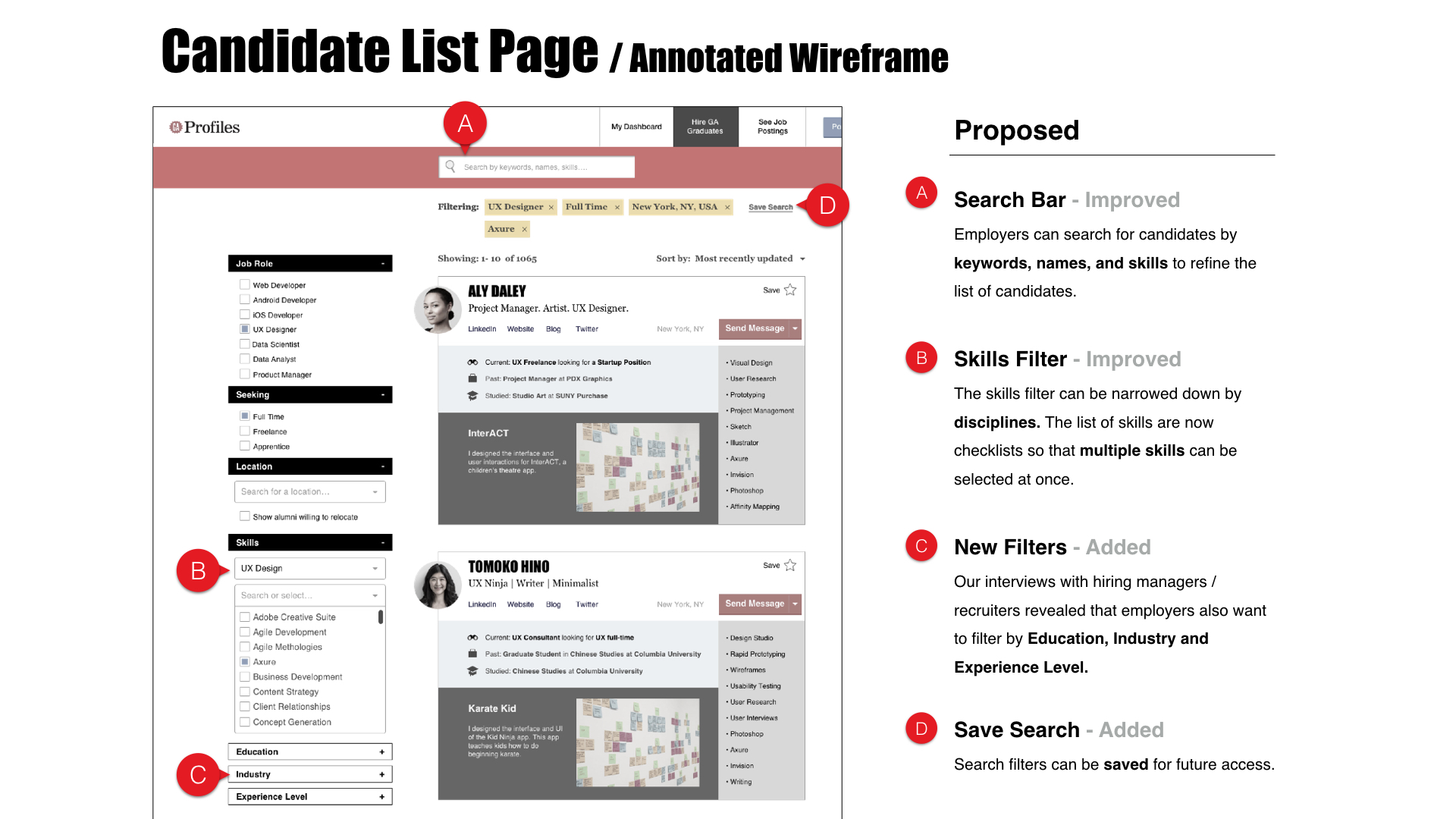 New Pages Proposed
Under the new global navigation option My Dashboard, users can access all of the new tools added to GA Profiles.

These new features equip employers with more efficient ways to track and hire General Assembly graduates.
TEXT TEXT TEXT
Introduction > Brief > interviews with stakeholders > Opportunity (insight) > Interview with hiring managers > INSIGHT > Competitive analysis > SYNTHESIS > feature prioritization > design iterations > Prototype > testing > annotated wireframes > final notes