Airbnb Eventspace
Book spaces for events through Airbnb.
⌄
AIRBNB: Eventspace
Feature Addition

Project: Implement a feature that allows Airbnb users to book event spaces
My role: UX Researcher, Interaction Designer
Team: Eloise Jones, Laka Richardson
Problem:
Did you know that Airbnb already has the option to search for event spaces? Our user interviews found that even the frequent Airbnb users were not aware of this option.
The cause for this problem, besides the fact that Airbnb does not actively market itself for event spaces, is that users have to check a "Suitable for Events" filtering option for their search. This option is hidden in a expandable menu, within an extensive list of other amenities.
 
Snippet of the filter list
Existing user flow for finding event spaces
Opportunity:
Airbnb currently lacks a proper method of finding event space options.
How can we create an easier way to connect hosts who offer event spaces and guests who want to find them?
Further more, studying the market for event space booking revealed a greater opportunity for Airbnb. Our competitive analysis showed that a market exists for connecting guests and hosts around professional event spaces.
Establishing an event space feature for Airbnb could expand its sharing economy scope by capitalizing on its popularity as a trusted brand.
Proposed user flow for finding event spaces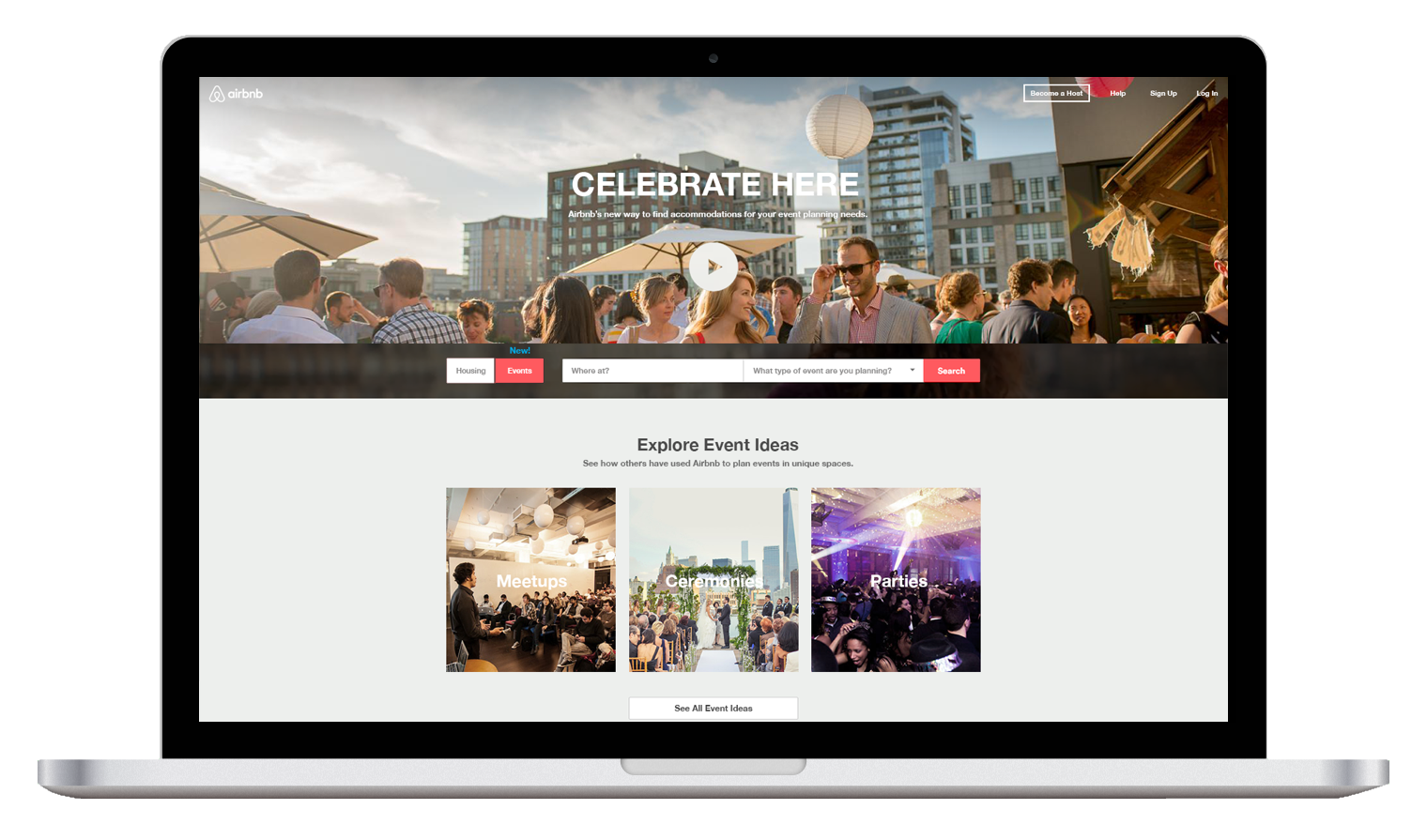 Research: User Interviews
We started off by using a screener survey to identify interviewees with any of the three following qualifications:
people who are familiar with using sharing economy services, especially Airbnb.
people who booked spaces for events, for professional or personal reasons (guests)
people who had experience with hosting their spaces as any form of accommodations (hosts)
 
We then interviewed 9 people who met at least one of these qualifications to further inquire about their experiences. Our questions focused on trying to understand the context and behaviors of their needs, pleasures, and pain points when using sharing economy services. From these interviews, we synthesized the main take-aways through affinity diagramming.
Insights from User Interviews:
Venues for events exist but are too expensive for most users.
Budget is the primary concern for guests who try to book any venue in a sharing economy.
Location is the next major concern, specifically the proximity of the accommodation to amenities like public transportation and parking spaces.
Most common method people use for booking event spaces is using google and calling the venue to inquire.
Users are unaware of existing listing services (competitors) for booking event spaces.
There's a demand— the interviewees expressed a desire to book professional and personal event spaces through a trusted platform.
Synthesis: Personas
From the insights attained from the user interviews, we established 4 personas in total: 2 personas for the guest who book event spaces and 2 personas for the hosts who provide event spaces.
We referenced these personas' needs, pains and behaviors to identify potential features we could implement.
 
Research: Competitive Analysis
With our personas in mind, the next step in our process was to identify features to include in the proposed design.
We analyzed the usability heuristics and user flows of:
2 direct competitors: Eventup and Peerspace
2 comparable booking services: Kayak and VRBO
 
We diagrammed the flows of these services to dissect the booking process of guests and listing process of hosts.
 
Insights
From these studies, we highlighted specific features that we wanted to adapt into our proposal such as the examples below. The next step was to prioritize the list of features gathered from the competitive analysis.
 
Synthesis: Feature Prioritization
From all the features determined by the needs of the personas and the additional features inspired by the competitive and comparable companies, we utilized 2x2 Matrix and MoSCoW method to organize the features by priority.
Finally, we took the prioritized list of features and removed features Airbnb was already doing well. The features that were left became the focus for the proposed design.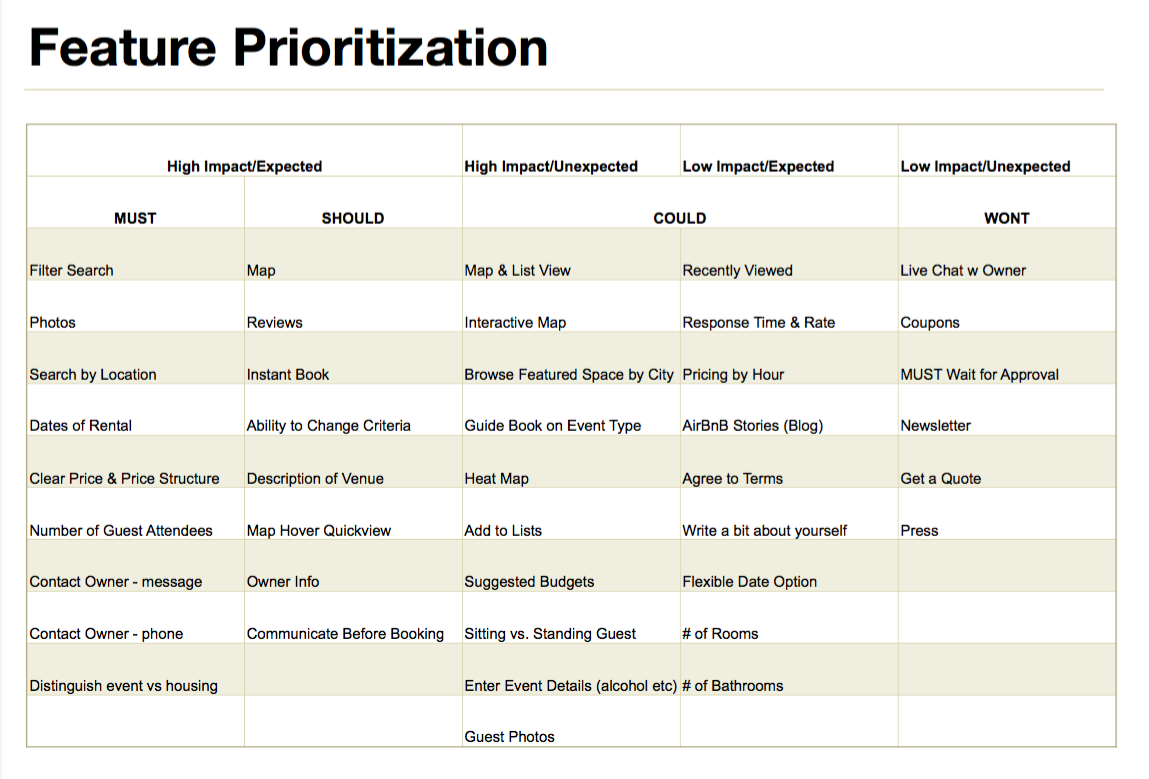 Features to Implement:
Toggle between events vs. housing listings at landing page
"Lookbook" of event inspirations
Additional Filters by: Venue types, Guest capacity, Catering, Atmosphere
Request phone number and walkthrough prior to booking
Book by hours
Allow hosts to add guest photos to photo gallery
Design: Ideation and Sketches
Design: Annotated Wireframes


Validation: Usability Testing
We conducted tests on people who frequently used Airbnb and also ones who had never used it before to get a broad range of responses. The tests focused on the usability and comprehension of the design from the guest-booking side of the interface.
Using the feedback we received from user testings, we cycled through 3 prototype iterations.

Insights
The primary pain point for many of our users was the transition between the housing accommodation page and the event space page.
The most difficult challenge we faced was creating an intuitive and seamless experience for switching between the two different types of searches while maintaining their distinctions. Our final solution ended up being a simple toggle next to the search bar.
The usability testings also helped us to refine our listings search filters and parameters, such as including the ability to search for event spaces by the duration of days vs. hours.